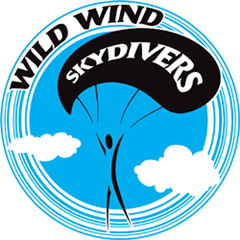 Welcome to Wild Wind Skydivers!
Wild Wind Skydivers specializes in the Accelerated Freefall style of 1st jump training. Accelerated Freefall is the most advanced and arguably the most rewarding method to learn skydiving. It consists of two highly trained instructors holding onto the perspective student for the entire freefall. When the parachute opens, pulling the student literally out of the instructors hands, the student is in control of his parachute following the instructors direction to a safe landing via radio communication. (See accompanying video)
We also offer Tandem and Instructor Assisted Deployment (IAD), but neither compare to the excitement of skydiving and landing the parachute safely on your own.
Every 1st AFF jump is filmed for training and liability purposes. We give the student this video of their 1st jump at no additional cost.
Drop Zone Weather
Jump Calendar

View the jump calendar
Directions & Rules

Find out how to get to us.